I wanted to check the going rate used Nintendo Wii consoles. Sifting through Kijiji was slow and only showed me the price of things which not sold. So I turned to Priceonomics, a site which is supposed to monitor the market price based on sold items. This would solve my pain point.
Going to priceonomics.com brought up this:
The thing I knew priceonomics had which I wanted, a product search bar, is gone! In its place we find a standard blog layout.
Priceonomics started blogging as a form of promotion. They used the Priceonomics engine  pricing data and wrote interesting articles. Yet I do not understand how those efforts have supplemented the main pricing engine as the website's focus!
We can still find the pricing engine but it shall take us some digging. First scroll all the way down to the footer:

There we find a tiny link to "Price Guides". This brings up a large list of categories. I'll save us some time and jump to the video game console guide:
This looks like generic search engine targeted "content", this does not solve my pain point. We are not at the pricing engine after going two links and two large scrolls from the homepage. We still must use the sidebar links bringing us to one more list until we arrive at the real Nintendo Wii pricing page: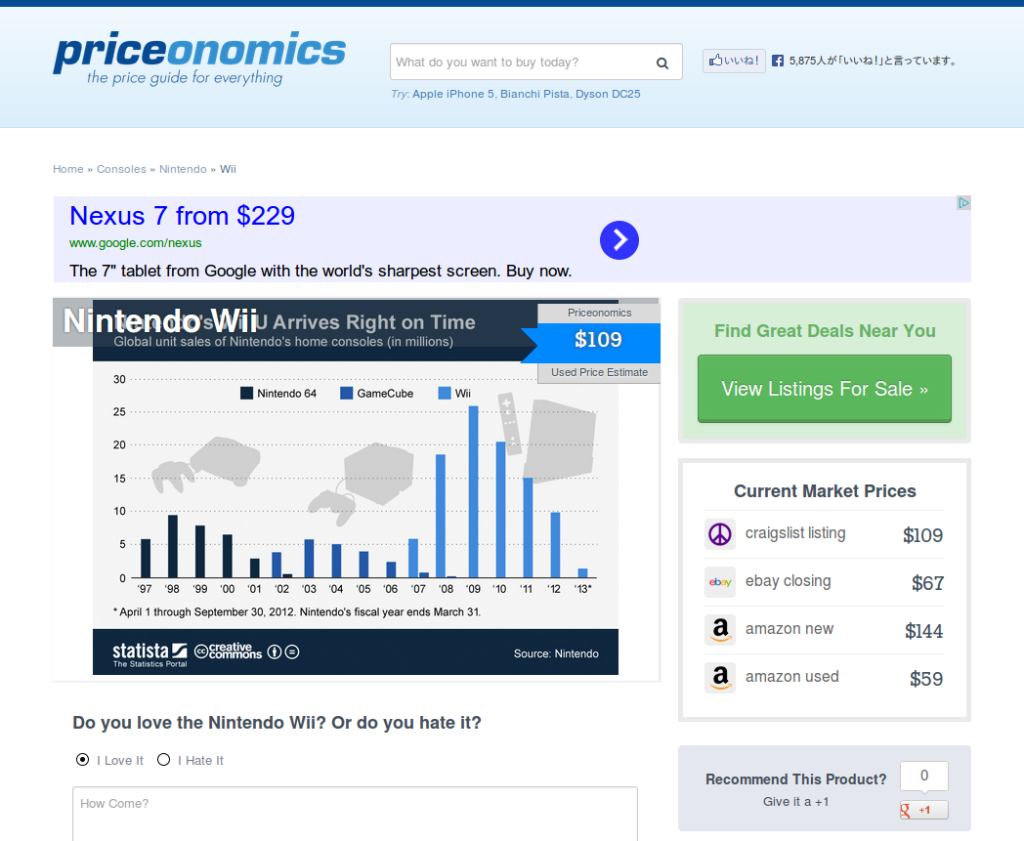 This page leaves me worried about Priceonomic's direction. We find the missing search bar where it belongs in the header, which is good. Bad is how much of the page has been filled with SEO things. There are product reviews which let users generate content for the search engines to pick up. There are two social media buttons. There is a large unrelated ad at top. Even the product image is auto-generated.
A complete product database is complex and finding images manually is lots of work. Yet of compared to anything else consoles are fantastic for selling used. They are a known standard, homogenious, and unlock considerable enjoyment for younger, cash strapped, players. If the image finding algorithmn cannot perform an acceptable job I can only suggest spending the effort on finding proper images.
The data I need to solve my pain point still exists. I now know I can ask ~$50 and undercut the market for a quick sale. Priceonomics solved my pain point, my life is better for their effort. I just hope they will be useful the next time I need them.